Tag:
Coast
We're back from our last cruise in Croatia, where we found hot sun, deep sea and astonishing nature.
First base in Vis, then route to Palmisana for baths in wonderful bays and a night in Hvar. Route to Trogir on July 22th, and arrive in Primosten after a quite day of sailing and baths, suddenly broken by a short storm. No prob, everybody loved the rock 'n roll outbreak! After a starry night in the bay, we leave Primosten with bow to Krka river. Base in the Skradin village marina at lunch time, and we are ready to take an excursion with river boats to the famous (and really crowded…) Krka Waterfalls. A grilled pork then  gladdened our night in the fjord.
Sail to Sibenik the following day, for a bath and custom checkout, and route back to Pescara.
Croazia Last Minute: 19-26 luglio, 2015, four berths in two cabins are still available at €650, with crew. We will cruise to Croazia onboard the Cyclades 50.4, and discover magical places.
Departure from Pescara on July 19 at 17:00, and night sailing to Vis and Split. Route to Primosten the following day, in the direction of the Krka Waterfalls. On the third day, there is the opportunity to visit the falls with guided excursions in one of the most beautiful Natural Parks in Croatia. We will moor in a wonderful bay for a night with swans, under a carpet of stars.
Route to Kornati National Park the following day, descending the fiord of Šibenik and Krka river, to sail around hundreds of wonderful islands. Last stage in Sali on July 25 and then route to Pescara, with arrival by July, 26 lunch time.
Routes and destinations might be subject to modifications, according to local weather conditions… To other Fantastic destinations, of course!
Info and booking: tel. +39 333 1259524 or use the form below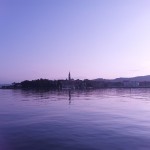 Summer 2015 Cruises to Croatia: three twin bed cabins still available at €650 pp for cruising to Croatia 19 – 26 July, on our grand Cyclades 50.4. It makes available four cabins and four bathrooms and ensures comfortable, fast and safe cruising. It is also availble for renting or cruises with skipper from 11 to 19 July, from 26 to 30 July, and after August 20. Renting or guided excursions are possible until July 4.
More excursions and weekends are possible from Pescara and Ortona, to sail with our other yachts to Trabocchi coast, Gargano and Tremiti Islands.
Our Lagoon 450 will be back by August 26. This luxury catamaran remains available until September for renting and cruises.
Qualified expert professionals, with long Croatian experience, team up our crew to take you in the most beautiful and hidden places of Adriatic. Boardin at Marina di Pescara, Abruzzo, Italy.
Info: tel. +39 333 1259524, or use the form.