About Us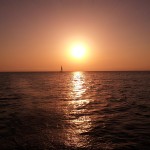 Welcome to the Website of ProMare Association. We promote social, sport and cultural development of marine activities like sailing and cruises, windsurf, motor-boating, diving, sea tourism and others in Mediterranean Sea.
Fantasailing Mediterranean Cruises range from daily excursions to skippered and crewed holidays in Italy, Croatia, Greece, Montenegro, Turkey with sailing and motor yachts. We also have a fleet for bareboat renting.
Our nautical school offers a wide range of teachings and training to develop or improve your maritime ability and competence, to prepare for boating license and command, and to explore a vast number of disciplines related to the sea and environment culture. A crew of old salts will take you on the best routes of Adriatic sea.
We support a number of activities and organisations for sustainable development and nature preservation, and promote projects, events and campaigns for such objectives.
You can find us at Marina di Pescara, Pescara Italy.
Info: +39 333 1259524.
For more information, use the form below.